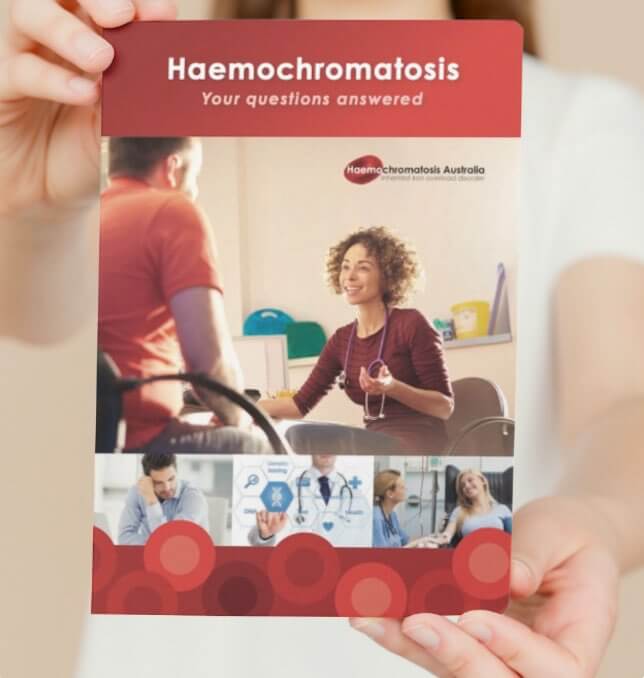 Haemochromatosis Your Questions Answered
This 28-page booklet explains haemochromatosis in simple terms.
Haemochromatosis' brochure
Family letter – what they need to know about haemochromatosis
Since haemochromatosis is an inherited disorder, family members of someone diagnosed with haemochromatosis are at increased risk of also having the condition. It is important to alert these family members and tell them what they need to do about it.
Explaining haemochromatosis to others might seem a difficult task, especially if you have just been diagnosed yourself and are just learning what you need to know to manage the condition.
Haemochromatosis Australia with the assistance of our GP Liaison Officer Dr Katie Goot MBBS FACRRM has developed a one page letter suitable to email or post to relatives. It explains what they need to know in simple terms and is suitable for them to take to their own GP to discuss testing.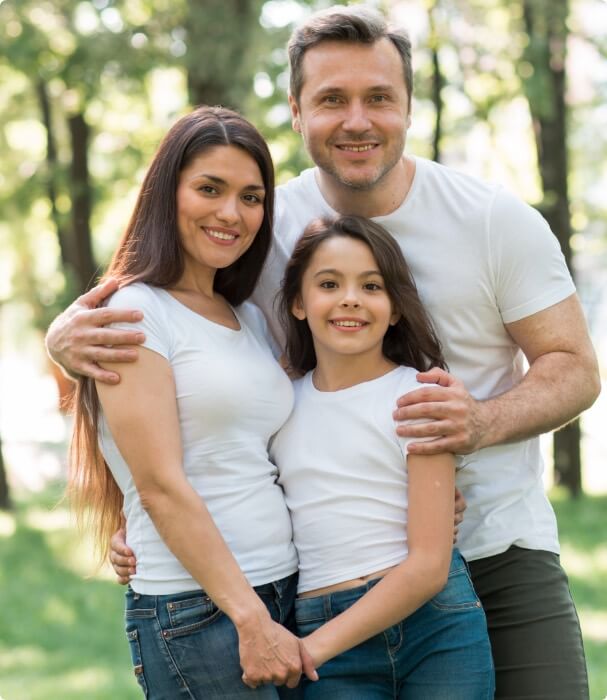 International Therapeutic Guidelines
Published by Haemochromatosis Australia
Haemochromatosis in Two Minutes
Watch lots more videos of people sharing their stories plus experts' videos on haemochromatosis on our YouTube channel.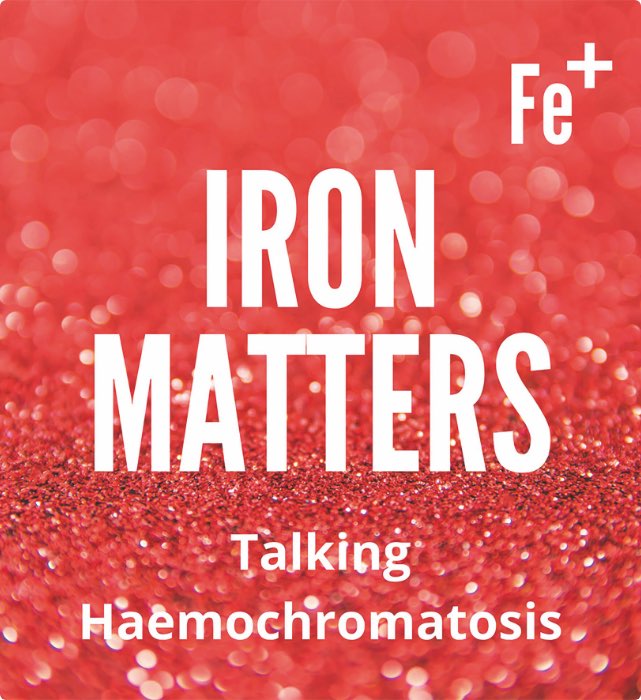 The IRON MATTERS podcast series features experts discussing haemochromatosis for health professionals. Many people living with haemochromatosis also find them interesting and useful.
You can subscribe to IRON MATTERS on your favourite podcast app or listen to them on our IRON MATTERS Podcast page.
An app to help you manage your treatment for haemochromatosis providing a directory of places where you can have your blood taken (searchable by postcode), an online tool for recording (& downloading) your blood test results and venesection history, and a calendar for managing your appointments.
All data entered to the App is stored locally on the device, not uploaded to the internet. The App is safe, secure and easy to use.
Use the app to:
Set treatment goals (targets for Serum Ferritin & Transferrin Saturation )
Record blood test results
Record treatment history (dates you had blood taken)
View your progress against goals
Export your results for your GP or specialist (optional)
Record appointments and receive reminders
Track which arm you last used for giving blood
Find where you can have blood taken (browse the map or search by location)
Find tips for preparing to have blood taken
Find out more about haemochromatosis
CORONAVIRUS AND HAEMOCHROMATOSIS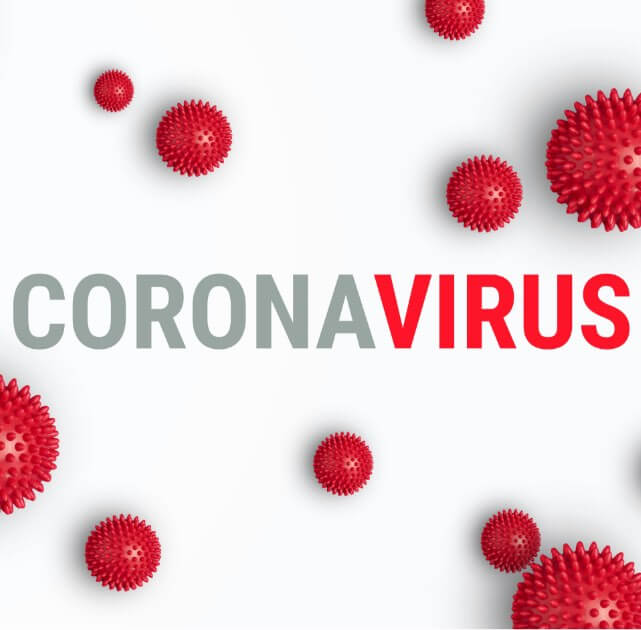 CORONAVIRUS AND HAEMOCHROMATOSIS
Haemochromatosis Australia has consulted with our medical advisors, health authorities and stakeholders to compile and share haemochromatosis related coronavirus information.
For general information about coronavirus (COVID=19) and vaccination, we recommend you visit the official Australian Government advice on Coronavirus and related issues or HealthDirect Coronavirus hub and consult with your GP or specialist.
Are there specific risks associated with coronavirus (COVID-19) for people with hereditary haemochromatosis?
We are unaware of any specific studies or research published focusing on haemochromatosis and coronavirus. At this point there is no specific evidence to suggest an increased risk in people with hereditary haemochromatosis of contracting coronavirus (COVID-19).
I have an appointment for a venesection, test or consultation with my GP or specialist. Should I go?
Yes, unless you have symptoms of coronavirus or you have been told to self-isolate or you have been specifically instructed by medical or a government authority not to attend.
Advice from Australian Red Cross Lifeblood for therapeutic donors
Lifeblood are asking existing blood donors to keep their appointments if fit and well and invite new donors to come forward to help meet the needs of Australian patients. Therapeutic donors who are well and haven't travelled are an important source of blood and Lifeblood are keen for them to continue attending as per their venesection schedule.
Lifeblood donor centres are safe places to visit and they are taking all necessary steps to ensure that stays the case. Lifeblood has introduced new measures to ensure the safety of the blood supply. We encourage therapeutic donors to check the Lifeblood website which will be updated regularly.
Anyone who has travelled overseas cannot donate for 28 days. This includes therapeutic donors. Anyone who is unwell or who has had contact with a COVID-19 case or has been ordered to self-isolate or quarantine is also deferred.
Lifeblood requires that anyone who receives the vaccine is required to avoid venesection for 7 days after the jab.
Travel to attend a blood donation is 'essential travel'.
For detailed information please visit Lifeblood's Coronavirus update https://www.donateblood.com.au/page/novel-coronavirus-update or call Lifeblood on 13 14 95.
I've been unable to attend venesection as usual, will that be a problem?
There may be various reasons why you are unable or unwilling to attend a venesection. These could include your own ill-health with coronavirus, self-isolation resulting from a close relative's infection or specific government or health authority advice. If you have coronavirus (COVID-19) or are self-isolating, venesection is not a priority. Delaying a venesection by a few weeks or months will generally not have any lasting implications for your health, especially if your Serum Ferritin (SF) does not exceed the reference range.
While there is some variation in reporting "normal" reference ranges between pathology laboratories, and for males and females, the upper level in Australia would usually be 400 µg/L.
For anyone with coronavirus the priority will be to recover from the coronavirus and/or prevent infecting others. For others the priority may be to reduce the risk of contracting coronavirus themselves, by minimising the need to leave their home.
Anybody who has any doubt about the appropriate action for themselves should phone their doctor. This particularly applies to anyone who has been newly diagnosed and/or has a Ferritin level exceeding the reference range.
If you have specific questions after reading this information, you can call our InfoLine 1300 019 028 during business hours.
Coronavirus (COVID-19) Vaccine
We have received enquiries from people with hereditary haemochromatosis (HH) asking whether the current Coronavirus (COVID-19) vaccines are safe for people with HH.
If you have concerns about the vaccine you should speak with your doctor.
All vaccines available in Australia are rigorously tested and provisionally approved by the Therapeutic Goods Administration in Australia.
Although there have not as yet been any specific medical trials focussed on Covid-19 vaccines in people with HH, there is no evidence that indicates any higher risk to people with haemochromatosis than the general population.
Anyone who receives the vaccine is required to avoid venesection for 7 days after the jab – this is a requirement of the Australian Red Cross Lifeblood service.
People commonly experience a headache immediately after receiving vaccination, so it may be advisable to avoid being venesected in the days before a vaccination and ensure that on the day of vaccination you are well hydrated (drink lots of water).